means ALWAYS getting the most from your Investment
Our managed service solutions secure your investment, reduce risks, increase bandwidth and give your organization a dedicated long-term partner and the competitive edge to keep your organization moving forward.
IMAGINE HAVING THE BEST ORACLE SOLUTIONS EXPERTS and system specialists on call for your organization
Our best practices approach and extensive experience means you can go beyond "just keeping the lights on" and get more from your solutions, realize ROI, and free up critical IT resources.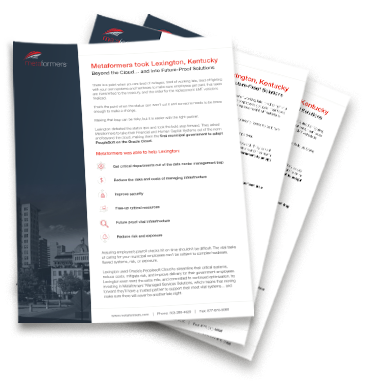 Discover how Lexington, Kentucky
used Meta's Managed Services to secure their PeopleSoft investment
a robust set of solutions for Managed Services designed to:
Increase return on investment (ROI)
Accelerate business performance
Provide flexible resourcing models to augment your own team
Provide a full outsource operation to run your solutions hosted in the Oracle Cloud
Lower cost of ownership
Optimize use of best practices
Keep your investment up to date and secure
Managed Services Offerings
We are the expert, agile consultants that software vendors call to solve the hardest problems, eliminate the biggest challenges, and exceed expectations in the toughest situations. We offer:
Enterprise Solution Migration to the Cloud
Full-Service SaaS Center of Excellence
Strategic Cloud Hosting Roadmap Development
Full-Service PeopleSoft Center of Excellence
Oracle IaaS/PaaS Hosting and Managed Services
Full-Service Technology Center of Excellence
Meta is a business transformation and cloud delivery technology organization with over 20 years experience helping our clients realize the full potential of their enterprise solutions, exceed operational expectations, and achieve true ROI from their technology investment for the long term.
Find out how Meta can Transform your Organization
Schedule a Managed Services Consultation Today