Meta's Solution Architects are the Public Sector Transformation
and Modernization Experts Helping Municipalities Exceed Their Operational Goals.
Achieve true ROI, best practices, and greater efficiencies with a trusted partner who can help you realize your unique goals.
As stewards of both the public's funds and the public's trust, government agencies are accountable to citizens to provide high-quality services while striving to achieve maximum return on investment for all systems and processes. Reporting and data retrieval are key duties of the public sector and transparency is of utmost importance.
Meta delivers a robust set of public sector solutions designed to enable your success.
We can help your organization:

Decrease Overall Business Process Cycle Time
Address Changing Needs with Rapid On-boarding of System Functionality

Effectively Adopt Best Practices


Facilitate Business Transformation

Improve Ability to Meet Statutory Reporting Requirements Quickly

Accelerate Adoption with Hybrid Architectures

Leverage Continuous Product Innovation

Align System Expenditures with Needs and Growth

Increase Visibility of of Data Required for Business Decisions

Increase Departmental Flexibility and Minimize Risk

Automate Manual Processes
Meta began its business serving the public sector and our team members have extensive, deep-level experience with all facets of public sector operations. Meta's experienced solution architects, project managers, and consultants design a strategy to address your agency's particular needs.
Schedule a Conversation
with one of our Public Sector Experts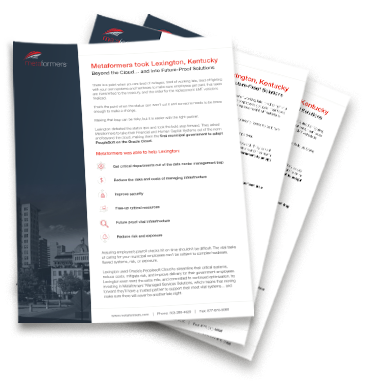 PeopleSoft Human Capital Management & Enterprise Learning Management
We partner with you to carefully evaluate your organization's existing Governance, applications and processes and then document your unique needs. We then develop an approach to support your systems to align with best practices and exceed your desired outcomes. This allows us to bring your organization to new levels of efficiency and ensures you continue to operate at your highest level.